text-sound art & sound poetry
short class with johannes bergmark, electroacoustic & text-sound composer, sound poet, performance artist, sound sculpture maker, surrealist.
7 december 2019, 2 to 6 p.m.; teaching language: english
sfd in association with the festival shut up and listen!
---
analog

/ johannes bergmark (swe)
---
text-sound art and sound poetry
with a background about the fylkingen language group and surrealism
short class with johannes bergmark (stockholm)
surrealist, electroacoustic and text-sound composer, sound poet, performance artist, sound sculpture maker
introduction lecture:
i will talk about the two major poetic movements that have been a crucial influence on me:
            - text-sound art (or text-sound composition) is a concept named by two of the major proponents of this intermedia art form at fylkingen in stockholm. i trace this history back to concrete poetry, a concept co-invented by another swedish artist. the movement is very varied and international, though. i'll play excerpts from this history and discuss the concepts.
            - surrealism is often misunderstood as an art movement, but is now an almost 100 years old living movement where the poetic phenomenon is at he centre of the quest for human emancipation. i look at the specific surrealist concept of poetry and also the largely unknown and hidden history of surrealism and music – and specifically about the sound poetry expressions within the movement.
class activity:
- text-sound work
- sound poetry work
- vocal improvisation
preparations:
no specific preparations are necessary – however, the participatory part of the workshop is based on interactions with the participating individuals. depending on your specific interests, you are welcome to bring:
            - possible compositions, recorded works, poems etc that you think would be interesting to hear/see or discuss, your own or someone else's, in this circumstance
            - sound editing equipment (in your laptop) if you are working on something that you would like to keep working on and share, or if you would like to start doing experiments with new recordings or recordings that you bring
            - paper and pens, crayons etc if you want to work with written or graphic poetry as a basis for vocal performance
            - recording equipment if you want to make your own recordings
at the sfd, there is a mixer, microphones and speakers for trying out things.
dates
4 units:
sat., 7 december: 2 to 6 p.m.
venue: vienna poetry school/schule für dichtung, mariahilfer str. 88a/III/7, 1070 wien
teaching language: english
class fee: 40,- €
limited number of participants!


johannes bergmark
*1963 in sweden. since the early 80ies active at elektronmusikstudion as a composer of text-sound work and electronic music. co-founder of the surrealist group in stockholm in 1986 and active in the surrealist movement ever since. mainly working as an experimental musical instrument builder and improvising musician, touring internationally, also using the voice in improvisational music as well as writing and performing sound poetry, influenced by people in the history of surrealism as well as in fylkingen, an artists' association where he became active in the 90ies, and since then was chairman in two different periods. he also continually writes on different topics and has workshops for all ages, mostly abut experimental musical instrument building.
(fylkingen was founded in 1933 and became a society for "radical and experimental art", mostly working with new music and intermedia art at the moderna museet in the 60ies, and since the 70ies at its own venue.)
http://bergmark.org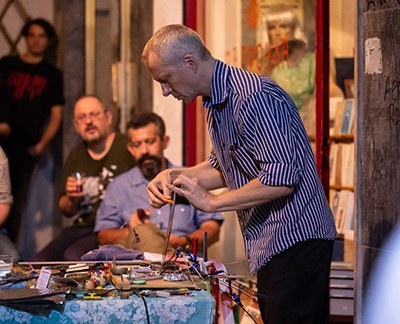 (c) nikos zaragopoulos 2019
vienna poetry school in association with
shut up and listen! 2019 (sual). transdisciplinary festival for music and sound art
tip: johannes bergmark performs at sual on 6 dec.
venue: echoraum, sechshauser str. 66, 1150 vienna
5 to 8 december 2019 >> www.sp-ce.net/sual/2019