dvd: builders of poetry worlds
builders of poetry worlds.
vienna poetry school. video conversations with christian ide hintze
a film by tina bara (68 min), sfd 2013
new: german with english subtitles and booklet in english!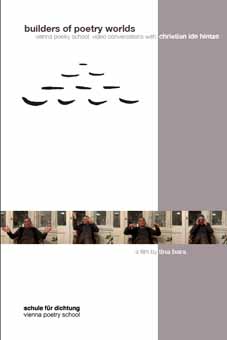 dvd (german with english subtitles) + booklet (in english, 34 pages)
isbn:  978-3-9502118-5-6 (german version) and 978-3-9502118-6-3 (english version)
price: 20,- €
ide hintze on the history of the vienna poetry school, about eros, the street, sappho, embers, the coffee house, writing in the water, etc. anecdotes, amongst others, on allen ginsberg, christian loidl, henri chopin, h. c. artmann, blixa bargeld, falco, friederike mayröcker.



always and everywhere, death leaves fragments behind: when christian ide hintze died on 10 february 2012, the idea of a portrait of the artist as a work-in-progress had just been born. tina bara – visual artist, professor for photography and the moving image at the university for graphic art and book design in leipzig, and a friend of ide hintze for many years – was interested, as an academic lecturer, in the poetic "split personality" of her poet friend, who – as an anti-academic outsider – had both co-founded the schule für dichtung and also participated in the emergence of a university institute for language art. such dualism of passions within one person must of necessity lead to unconventional forms of 'teaching' and 'learning', above and beyond the institutionalised mediation of knowledge. that is a recurring subject in "builders of poetry worlds". among others things.
always and everywhere, fragments leave lose ends behind: yet they were already written into bara's basic concept. the intention was not to make it into a question and answer game, nor into deskside interviews, but rather to capture hintze freely associating and speaking at locations that had an affinity with the sfd. stories "tell themselves", anecdotes remind one of images and dauntless name-dropping connects idols, comrades and companions into a cluster of 'oral history' and the 'po­etic act', just the way h.c. artmann would have liked it. a few names? allen ginsberg, anne waldman, christian loidl, friederike mayröcker, henri chopin, falco, blixa bargeld ...
always and everywhere, loose ends are a great opportunity for further stories to evolve: often only outlined, not told to the end, the flow of words interrupted by short black images and intertitles ("the  poetry station", "writing in the water"). all these parts of the puzzle of an aesthetics of fragments accumulate in tina bara's "work on a portrait", forming a whole, which – precisely in its fragmentary nature – does justice to ide hintze's expanded notion of art and poetry, and to a poet and teacher of those things that are hard to put down in words. words such as "spirit" and "energy" come to tina's mind when she speaks of ide's "charisma, which generated movement and joint action". and probably one really does need to use such words, taken as they are from the emotional zones of ambiguity, when it's a matter of evolving further stories. and that's what it's all about isn't it?
fritz ostermayer, artistic director of the vienna poetry school (sfd)