vienna poetry school call for text submissions 2021
we're looking for short literary texts on the topic "without net" for:
sfd& ohne netz (without net)
magazine of the vienna poetry school #03
deadline for submissions: 12 july 2021
(literary form: open – poems, prose, drama, etc...)
---
publication
---
vienna poetry school call for text sumbissions 2021
sfd& ohne netz (without net)
magazine of the vienna poetry school #03
deadline: 12 july 2021
we welcome unpublished short texts in german and english from austria and abroad!
please send your manuscripts that deal with the topic "without net".
the length of each submission may have a maximum of 3,000 characters and all literary genres are accepted.
a jury will select the texts for publication.
for details on the call for texts and participation see the info below.
"without net"
our reanimated digital academy currently deals with the wide possibilities of being without net. four classes are asking the question of a world "without net" - both as a worst case scenario of a total global power blackout & shutdown of the internet and as the individual's loss of social security or – god beware! – loss of his/her mobile. not to mention the trapeze artiste high up in the circus dome.
our fear of a power cut or loss of reception feeds, on the one hand, off the fetish of constant availability of men and things and, on the other hand, off the real consequences a collapse of electrical power supply and information technology would bring. for most, such a scenario would seem to be an ultimate catastrophe and worst dystopia, others could also see this as an opportunity, even as a utopia of an all-embracing reset. in this case, the pessimistic wheat would seprate itself from the optimistic chaff. or the other way round.
however, it is easy to get carried away if one doesn't focus on a certain aspect of "without net". there could not be more room for associations: without safety net, without security, without assurance, without supply or care, without internet, without social networks, without availability, without calculation, without archive, without memory, without rememberance, without power, without without without. in the end the skyline of financial capital collapses and the pixies accompany this with "where is my mind"...

in the meantime, we are focussing on the third edition of our magazine sfd& which continues the topic of our digital academy and therefore will be called, both consistently and unelegantly sfd& ohne netz (without net). we are awaiting your contributions!

***
call for text submissions
sfd& ohne netz (without net)
magazine of the vienna poetry school #03
deadline for submissions: 12 july 2021
upload your texts via the online form: >> https://sfd.at/en/text-submission 
deadline ended on july 12. thanks a lot for all submissions!

(only texts sent via the online form are accepted. sfd applies in its publications radical use of small letters. if your text requires capital letters or any other special formatting, ie visual poetry, please contact us at sfd@sfd.at.)
topic: without net (see above)
german and english texts can be submitted.
max. length: 3,000 characters (incl. spaces, excl. title).
literary form: open
the vienna poetry school's >> privacy statement applies.
publication date of the magazine: autumn 2021

terms & conditions:
the text submitted has not been published before. (the texts must be free from third party rights and written by the participants themselves)
the copyright remains with the authors.
each author whose text will be published, will be contacted by sfd beforehand. he/she will receive a free copy of the magazine.
we cannot respond to requests/comments about the submitted texts.
the participants in this call automatically give permission that their texts acan be published in the sfd magazine sfd& free of charge and that, if applicable, they can also be presented at a public event organised by sfd. they also give permmission that their texts can be published either in part or fully on the sfd website and via social media.
by taking part in this call for text submisstions the participants explicitly and automatically agree to these terms & conditions.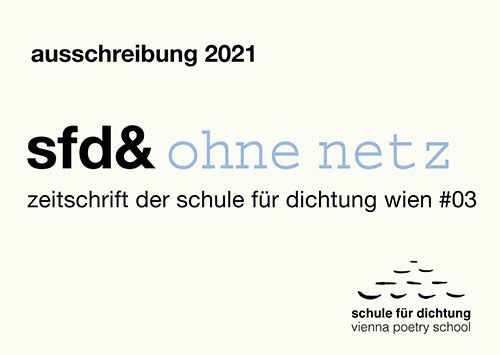 ***
review:
sfd& gespenster (ghosts)
magazine of the vienna poetry school #02
>> https://sfd.at/publikationen/sfd-gespenster
sfd& wut (rage)
magazine of the vienna poetry school #01
>> https://sfd.at/publikationen/sfd-wut